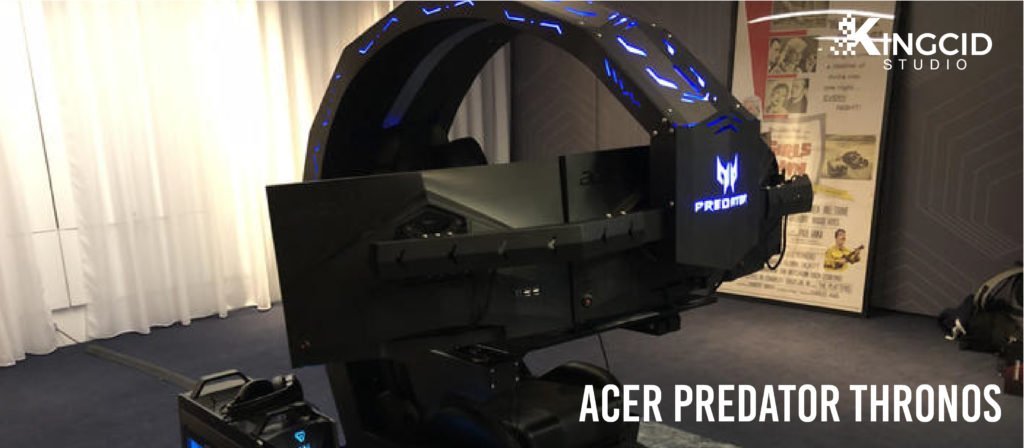 What a gamer needs
Acer Predator Thronos is a mechanized gamer chair, consisting of a black steel structure with a scorpion-shaped bow, in which are found 3 monitors of 27 inches that are lowered with the control panel for better comfort and panoramic view. It includes a table to support the mouse, keyboard and of course a space for a PC gaming of the Predator range. It has a foot rest and an ergonomic armchair that reclines up to 140 degrees and a vibration system that allows you to feel all the sounds of low frequencies. It weighs almost 220 kilos and has a height of 1.5 meters.
The control panel allows you to have complete control over how to play. It contains RGB lighting elements, which allow icons to cover the entire structure of the chair, has 16 colors and four modes to choose from and adjust with the remote control. In addition to a reclining system Zero-G and keyboard tray suitable for peripherals. The three screens it has are curved and allow fast images with fluid frames that end up wrapping the player.
The devices that can be used for Acer Predator Thronos are:
Desktop Computers
Acer presents three Orion computers with Intel processors and NVIDIA graphics cards that allow extreme performance: Predator Orion 3000, Predator Orion 5000, Predator Orion 9000.
Display
The Predator Z271U WQHD display features G-SYNCË technology and 144 Hz native update frequency. It is created specifically for Thronos.
Mouse
Cestus 510 is a 400 IPS and 16,000 DPI mouse that ensures high speed, precision and comfort.
Keyboard
Aethon 500 has the ability to press all the keys at once, RGB single backlight with 16.8 million colors and easy-to-access multimedia controls with a volume knob.
Earphones
Predator Galea 300 allows you to immerse yourself in sounds with a clear quality that will make you feel inside the game.